Christmas sweets you should taste in Montepulciano
30 November 2017
At the end of autumn, the scents and aromas that spread in the streets of the Tuscan hamlets, near the bakeries and pastry shops, warn us that Christmas is coming: the typical ingredients of tradition, especially in the province of Siena, are honey, nuts, hazelnuts, dried figs, white almonds, spices, vanilla sugar, velvet sugar and candied fruit.
We suggest you some sweets typical of Montepulciano and Siena province, inviting you to spend a stay here for Christmas holidays or plan a food itinerary even in a different season. Since the most popular Christmas sweets in Tuscany are Panforte, (a sort of symbol of Siena), Ricciarelli, which have been popular since XV century, and Cavallucci, biscuits that you can dip in Vin Santo, we will recommend you other specialties that are worth a visit to a restaurant or pastry shop.
Castagnaccio
Did you know that in the XVI century the peasants were used to cook castagnaccio, typical autumn cake, an example of traditional Tuscan cuisine?
Later, around 1800, this cake, made with chestnut flour, was enriched with raisins and pine nuts; castagnaccio is a specialty widespread especially in Val di Chiana and is easy to prepare even at home.
However, try the castagnaccio during your next stay in Montepulciano, especially during the Christmas holidays, it will be a delightful way of saying goodbye to autumn.
Ciaccia dei Santi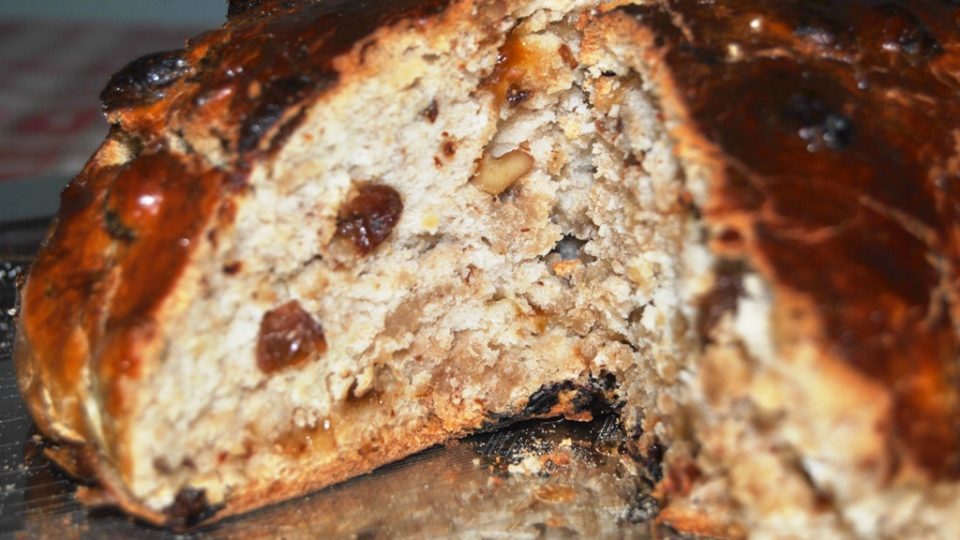 A typical sweet of the province of Siena is the Ciaccia dei Santi, also known as Pan co' Santi, and related to All Saints Day, celebrated on November 1st: it 's a sweet made with bread stuffed with nuts, raisins and black pepper. The contrast between salty and sweet makes it a sought after specialty for foodies who want to taste something different from the usual.
According to some experts, the Ciaccia dei Santi was invented by the Noble Contrada del Nicchio in Siena.
Copate
Compared with other popular desserts, the copate aren't easy to find but it is a kind of sweet with very ancient origins.
The name comes from the Arabic "qubbiat" (almond), it is a dessert probably invented in the Middle Age and has a round shape, made with two waffle leaves and a mixture of honey, egg whites, dried fruits and almonds, and then, in XVIII century was also added cocoa as an ingredient.
This dessert, usually cooked for Christmas, is an excellent pretext for trying the copate together with other traditional delicacies in the Sienese territory.
Plums tart
With the arrival of the cold season it's time to tart: here the plums are called "sucine" and are the main ingredient of a perfect tart for sweet winter!
The plum jam is impeccably blended with shortcrust pastry, thanks to the combination of the bitterness of the plums and the sweet pastry flavor.
These are just a few examples of the local gastronomical tradition, a triumph of flavors that you can celebrate during your stay in Montepulciano, enjoying an itinerary for gourmets.