What to do in Montepulciano in autumn
16 Oktober 2020
If you are thinking that in autumn, in a region like Tuscany, there isn't a lot to do and it's not the best season to visit it, we are here to prove you wrong: there are excellent reasons to organize a stay, perhaps in Val di Chiana and a few steps from Montepulciano, an excellent starting point for exploring the area and falling in love with the landscape.
Camus said "Autumn is a second spring", in fact here in Tuscany the show of foliage is worth the trip: the woods are tinged with a thousand colors, the hills have a different charm than usual, the small hamlets reveal their beauty to travelers who aren't looking for the most famous destinations.
In other words, it's a great time to take short breaks and disconnect from the rhythms of everyday life.
In addition to giving some specific advice about what to do in Montepulciano in autumn, we invite you to check the post When to visit Montepulciano to have a complete overview.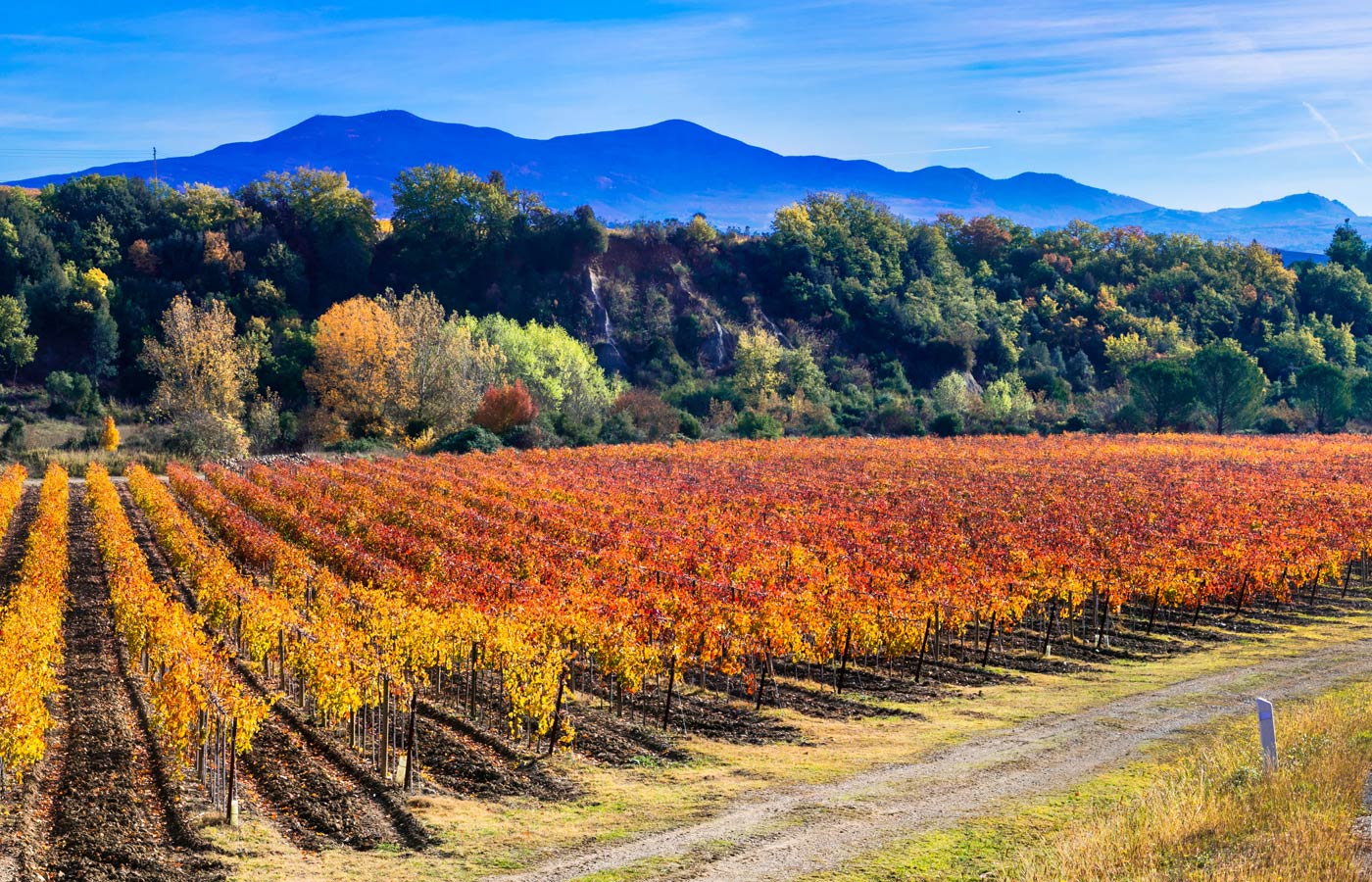 Discovering Vino Nobile
Let's start with genuine flavors: from Friday 23rd to Sunday 25th October the Journey into Vino Nobile is scheduled in Montepulciano, a series of 8 guided tastings led by Paolo Lauciani and Massimo Billetto, historical teachers of the Italian Sommelier Foundation.
The wines we are talking about are the Vino Nobile with vintages from 1979 to 1998 and from 2000 to 2015, as well as Vin Santo and Rosso di Montepulciano vintage 2018.
There is an in-depth seminar before each tasting, and we will also be present with Tenuta Tre Rose to let you taste some of our excellent wines.
We invite you to visit the website https://www.bibenda.it to find out how to join the event that will take place at the Fortress of Montepulciano, a symbol of the city.
This Fortress deserves to be described in detail: it is located a few meters from Piazza Grande and can be reached from the main streets of the historic center or through the car parks located at the rear, which provide convenient access to the highest part of Montepulciano.
The Fortress deserves a stop even in autumn for the view it offers, in fact from its internal rooms and gardens you can see the Val di Chiana, the Val d'Orcia, up to Lake Trasimeno.
This fortification has been reused and rebuilt for different purposes over the centuries: first it was a castle from the Lombard period, then it became a fortress built by the Sienese in 1261 after the victory of Montaperti against the Florentines; it was restored in the XIX century by the architect Corbi, then housed the Bacological Plant of Francesco Saverio Melissari. In the XX century, for over 60 years, it was a high school, but only after 2000 did it become a cultural center that hosts exhibitions, conferences and cutting-edge cultural initiatives.
Reach Monte Amiata

In this article The hamlets of Monte Amiata that are worth a visit we have suggested which places to visit near Monte Amiata, a particularly interesting destination in autumn.
First of all, it is a beautiful area to photograph, by virtue of the landscapes and shades that allow a glimpse of breathtaking views. Then there are roads, characterized by sharp bends and narrow paths that lead to wonderful places such as the Prato delle Macinaie and Prato della of Contessa.
To explore the woods it is recommended to move on foot or on horseback (visit this website to know more about the available activities https://www.bookingamiata.com/passeggiate-a-cavallo-2/), thus spending a lot of time outdoors and close contact with nature.
Here too there is no shortage of gastronomic specialties, and in October it's a must to suggest porcini mushrooms and IGP chestnuts, the most delicious delight of Amiata.
Also worth mentioning is the olive oil, since in this promontory, the Olivastra Seggianese gives the precious "Olio Seggiano Dop".
This is just an example of a possible route starting from Montepulciano, to appreciate the richness of nature in this part of Tuscany,