Guide to Vin Santo di Montepulciano, excellent dessert wine
11 June 2018
Among the many Tuscan food and wine excellences it's impossible not to mention the Vin Santo di Montepulciano.
This wine has DOC certification since 21st October 1996, but the roots of its success date back to more ancient times. Many bills of sale were found from the Carolingian age, testifying that the story of this wine is bound to the one of noble and aristocratic Tuscan families.
In fact, in the Montepulciano and Siena's area it's not unusual to find wine cellars under the ancient country manors and estates. Some of these cellars are still used for the Vin Santo di Montepulciano ageing, proving itself once again as an absolute Tuscan pride; Borgo Tre Rose itself produces its own special Vin Santo.
In 1350 the first laws regarding the Vin Santo exportation were written. Its production, indeed, has always been related to the trade rather than own consumption, gaining an excellent reputation all around the world.

How Vin Santo is made
The vine varieties used when making this sweet wine are white Malvasia, Trebbiano and white Grechetto. The proportions may differ depending on what final product one wants to achieve.
The most famous types are Riserva and Occhio di Pernice.
The alcohol strength is usually included between 15% and 17,5% alcohol by volume, depending on the use of other complementary grapes – which presence can't amount to more than a ⅓ of the total and final product. The making of the Vin Santo di Montepulciano is exclusively allowed in the Siena's area, which meets all the criteria requested by the product specification. In fact, every DOC wine Vin Santo di Montepulciano must have the following features.
Its colour should range between a shade of golden yellow and the most intense amber's hue. Its smell must be warming, ethereal and bringing the sensation of ripe fruit.
Moreover, its taste is always velvety, wide, well-balanced and soft, but most of all, complex.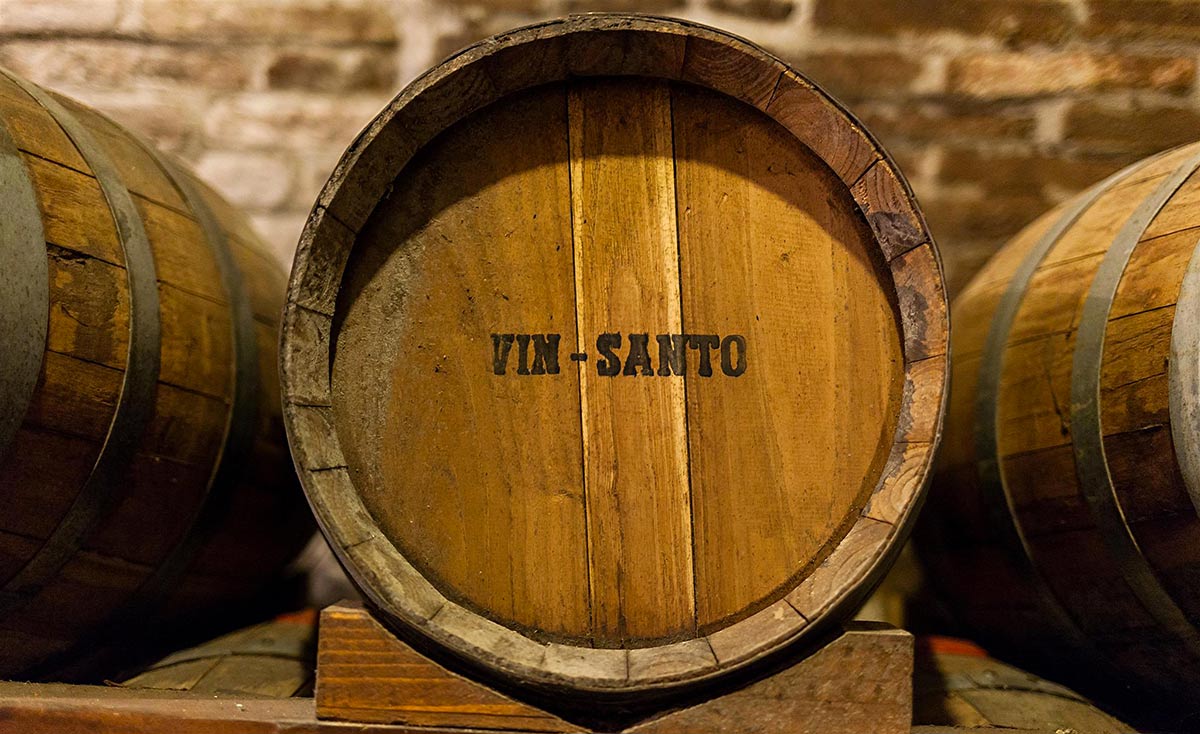 The grapes must be picked when they're perfectly ripe and after a careful selection, they should be left in the "appassitoi", wide ventilated indoor places, which are a centuries-old feature of ancient agricultural structures in the area of Montepulciano. During fermentation, conservation and a minimum of 3 years ageing, the Vin Santo is stored in traditional wooden barrels – "vinsantaie".
What to pair the Vin Santo di Montepulciano with?
The Vin Santo di Montepulciano should be sipped from passito's wine glasses.  The right temperature to enjoy this wine the most should be around 12°.
Specific varieties aside, the Vin Santo di Montepulciano is perfect when paired to dried pastry, such as biscuits or pies, but most of all with the most famous Tuscan cantucci.
Another awesome pairing is with more soft pastries such as almond marzipans, dark chocolate and dried figs. These tastes recall the complex and dense flavours that the Vin Santo di Montepulciano is able to recall. Unlike what we are usually used to thinking, this wine can be paired with savoury matches.  For the ones who dare, don't be afraid to taste a glass of Vin Santo with a high-quality foie gras.
If you're curious about wines, then you should absolutely check this article of our blog about another Tuscan wine excellence, the Noble wine of Montepulciano.