What you should know about Nobil Contrada di San Donato
29 January 2021
How many stories a town like Montepulciano have to tell?
What distinguishes its 8 contrada?
Every time we describe a fragment of its origins and traditions, very much felt in this city, it is like reliving important moments from the past of Montepulciano, which such as another destinations in Tuscany, maintains a strong link with the Middle Age and the Renaissance, when this part of Italy gave an important artistic contribution.
About the Contrada of San Donato, let's retrace its origins and give some useful information for those who want to deepen the traditions of poliziani (Montepulciano inhabitants) and discover which parts of the historic center correspond to the various districts.
What is the origins of the Nobil Contrada di San Donato?
Since the Middle Ages the town was divided in two parts, one of which distinguished by the parishes of San Donato and Santa Margherita del Sasso (currently San Francesco), so it is likely that San Donato was one of the first contrada to be born, because we have some documents about it that date back to the beginning of the XII century.
It should also be remembered that it was San Donato, bishop of Arezzo, who evangelized Montepulciano in the IV century.
The Contrada of San Donato, therefore, is perched at the top, in the area of the historic center where most of the power centers of the medieval municipality were located and where many notable Politian families resided.
Towards the end of 1500, however, many houses were demolished to allow the construction of the Cathedral, which today occupies more than half of the Contrada.
For this reason, San Donato is one of the least populous districts of Montepulciano.
What to see in Contrada of San Donato?
Imagine a square: its sides consist of the Duomo, the Palazzo Comunale (where the bell tower stands), Palazzo Contucci (designed by the famous Antonio da Sangallo), the austere Palazzo Nobili-Tarugi and the Palazzo del Capitano del Popolo, designed in Gothic style.
This is the heart of the Contrada, as well as being one of the best known historical centers to tourists from all over the world.
It should be remembered that one of the most important centers of power was the Medieval Fortress, located on the southern spur of the hill on which the town stands, which is located a few meters from Piazza Grande; at the corner of the Palazzi Nobili-Tarugi and Capitano del Popolo there is one of the most famous symbols of Montepulciano, the Pozzo de' Grifi e de' Leoni. Furthermore, there is also the Poliziano Theater in via del Teatro, built in the XVIII century.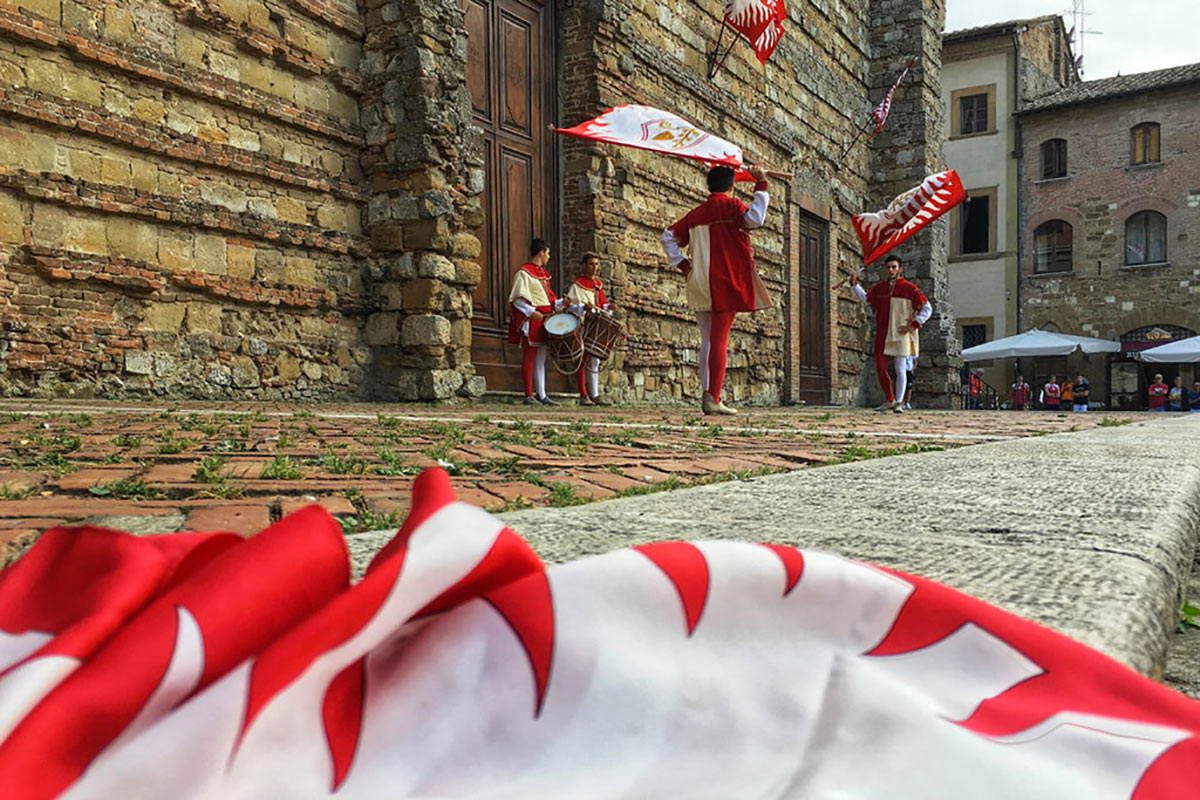 The colors of the coat of arms and costumes of the Contrada di San Donato are white and red, while the victories at the Bravìo delle Botti are 7: in the editions of 1992, 1993 (twice, because that year a special additional Bravìo was run), 1994, 1995, 1998 and 2001.
Credits preview photo: www.braviodellebotti.com/contrade/san-donato/